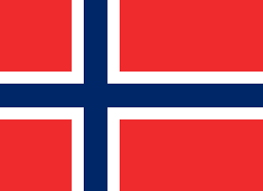 Used Household Goods and Personal Effects
Documents Required                                          
Passport
Original bill of lading (OBL) / air waybill (AWB)
Detailed inventory in Norwegian, English or German (2 copies)
Customs Form RD 0030E (Importation of Removal Goods Declaration)
Specific Information
All shipments are subject to inspection.
A used household goods shipment can be imported tax and duty free if the owner has lived abroad for at least 1 year and the shipment has been owned and used during that time prior to importation.
Motor Vehicles
Documents Required
Title / registration
Status report
OBL
Specific Information
For vehicles more than 30 years old, antique vehicle rules apply (no duties, only 25% VAT).

For all others, extreme charges will apply based on a very complicated calculation of ccm3, horsepower, weight, equipment etc.

The owner of the goods should contact Customs to determine the import charges on specific vehicles.

All taxes and duties must be paid to Customs before a shipment with a vehicle is released.

Vehicles must be registered in Norway and are subject to a yearly road tax.
Import taxes and duties are approximately 105% of the current value of the vehicle.
Pets
Documents Required
Vaccination record
Veterinary health certificate
Import license
Identification marking (tattoo or approved microchip)
Certificate of de-worming against echinococcos
Specific Information
Cats and dogs must be treated for fox tapeworm within the 48 hours prior to importation by a licensed veterinarian.
After the first treatment, cats and dogs that regularly travel to Norway from Sweden may subsequently be treated a minimum of every 28 days instead of just before each border crossing.
No earlier than 120 days after the vaccination, a blood sample must be taken for antibody testing.
Vaccinations against distemper and leptospirosis must be done at least 1 month prior to import.
Contact agent for additional information regarding the importation of pets.
IAM Note:  Cats and dogs older than 3 months imported from Sweden must be treated for fox tapeworm (echinococcosis).  The spread of the parasite can occur through direct contact with cats and dogs of through ingestion of mushrooms, berries, etc. from areas where the parasite exists.
Restricted/Dutiable Items
Cigarettes – persons over 18 years or older (200), tobacco leaves (200), other tobacco products (250 g)
Television sets (Customs will report television imports to the Norwegian Broadcasting Corporation (NRK), which will forward an annual license invoice to the owner.)
New items (any item owned and used less than 12 months are considered new and subject to import tax and duty)
Vitamins (milligram dosage allowed in Norway is very low.  It is advised not to include them in the shipment.)
Medications (must be hand carried by the owner of the goods and a prescription shown to Customs upon arrival)
Weapons (a permit from the local police is required)
Food items (only canned food, dried food, and spices can be imported and in small quantities for personal consumption – not recommended for import)
Outboard engines (charges of approximately NOK 285,- per horsepower + 25% VAT calculated from purchase price/invoice apply)
Wood packaging materials must be treated and marked according to ISPM-15 regulations.
Live plants (a certificate from the Plant and Wildlife Department at origin is required)
Alcohol:

An import permit from the Ministry of Drugs is required and must be obtained prior to import.
The import of alcohol is strongly discouraged as high duties and taxes will apply.
A detailed list including brand, volume, year and strength must be presented to Customs.
Spirits containing over 60% alcohol by volume cannot be imported.
Prohibited Items
Drugs
Poisons
Explosives
Potatoes
Endangered animal and plant species